After hauling approximately 700 pounds of luggage from the apartment in Mitaka to the train station, we traveled to Kamakura where we checked into our hotel all by ourselves! No help with translation or anything. It was exciting.
I had to take a picture of my dad's guitar in Japan, just felt important to me…
Here's a quick story about dinner in Kamakura. I wrote this the night it happened and never posted it anywhere:
We stumbled in by accident, looking for a restaurant we had read about online. The sign outside was all in Japanese, so we poked our heads in to ask if they served dinner. At first they said no, drinks only. There were cats on the bar and we petted them while we chatted with the older couple in charge about where we live. A short, older woman in a tiger striped blouse asked us several questions about what kind of food we like. Tofu? Fresh vegetables? Miso soup? I said yes, and maybe fish too. I had trouble understanding her so I just said yes a lot. I thought she was going to recommend somewhere else for us to try, but after a few more rounds of questions, she said "Ok. You sit anywhere you like."
She and her husband brought us tea, hot towels for our hands and plate after plate after plate of food. Tofu with curry. Tofu with wasabi. Pickled radishes. Eggplant. Salmon (it took her several minutes with a decades-old translation dictionary to come up with the name). A never ending bowl of rice with delicious toppings. Miso soup with crab legs in it. A giant pork meatball. Penne pasta ("Japanese style"). There was beer and a little sake involved too.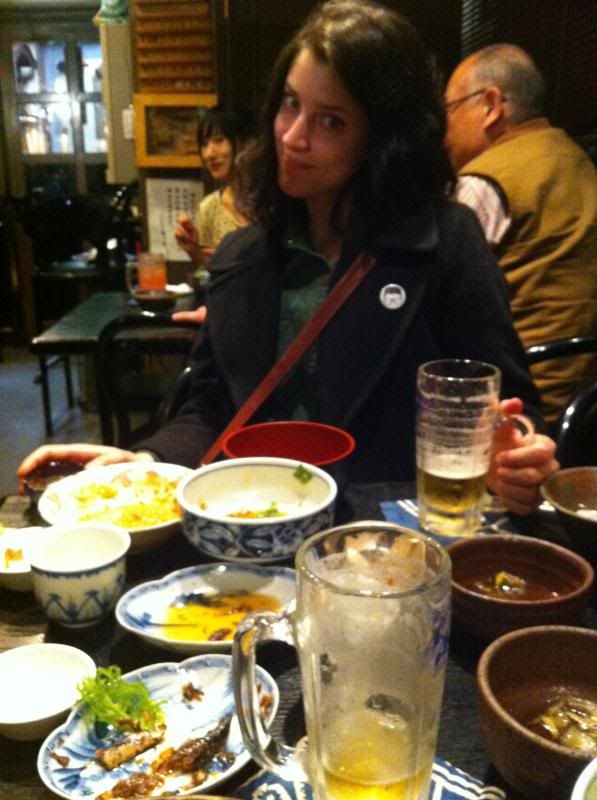 Once it was clear that we were belly full and happy, she took her apron off and sat near us at the bar, looking up various words in her English dictionary. I asked if she had ever been to America. Once, she said. Her husband is a magician and he performed at The Magic Castle in LA. It seemed that she could take or leave LA but she loved The Magic Castle.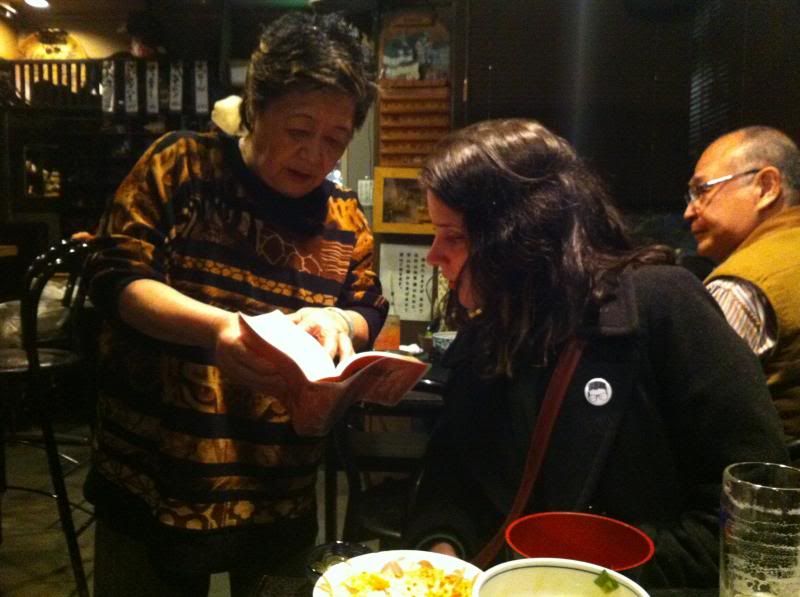 Before the night was over, the lights were dimmed and her husband performed magic for us. We sang a few songs for them. I gave them a copy of my CD and she gave Lindsey and I both necklaces with wooden pendants carved by a friend of hers in Kamakura. Around this point I realized that my face was sore from smiling so much.
We could have stayed forever but didn't want to wear out our welcome so we excused ourselves and stepped out out into the night, like children stepping out of Narnia. Through the wardrobe we went back into the real world, unsure of how much time had passed and how or if we would ever return to the wondrous place from whence we just came.
(that's the end of my story about dinner.)
Back to the rest of the trip:
On the last day Keith and Mino took me to the bamboo temple in Kamakura. We had to choose between this and the giant Buddha because, well, a girl's gotta leave something for next time. I'm so glad we went there, it was amazing. A 1200 year old grove of bamboo trees. Or maybe it was planted in 1200 ad. Or maybe there are 1200 of them and they were really, really old. At any rate, it's a thick grove of ancient, enormous, beautiful bamboo trees.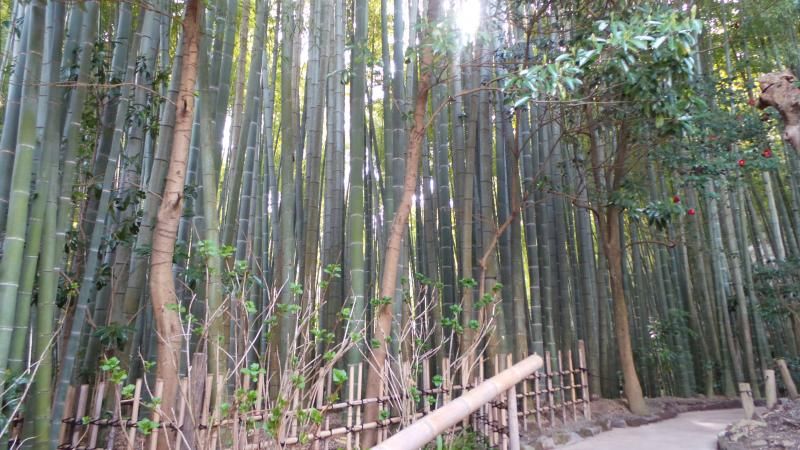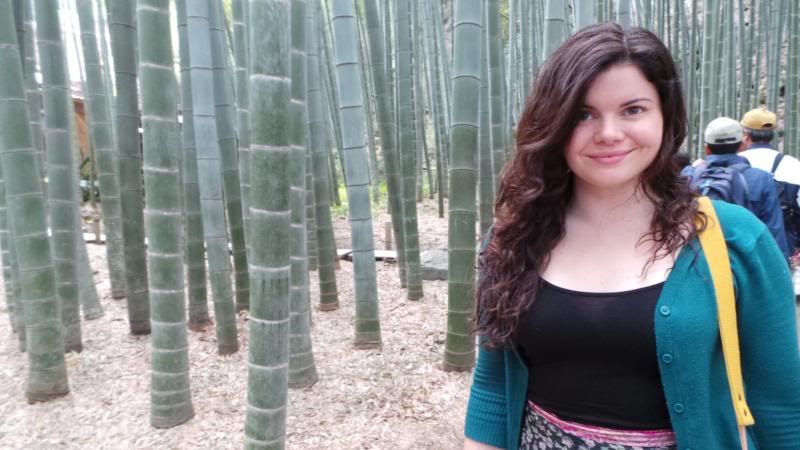 With this little teahouse in the middle: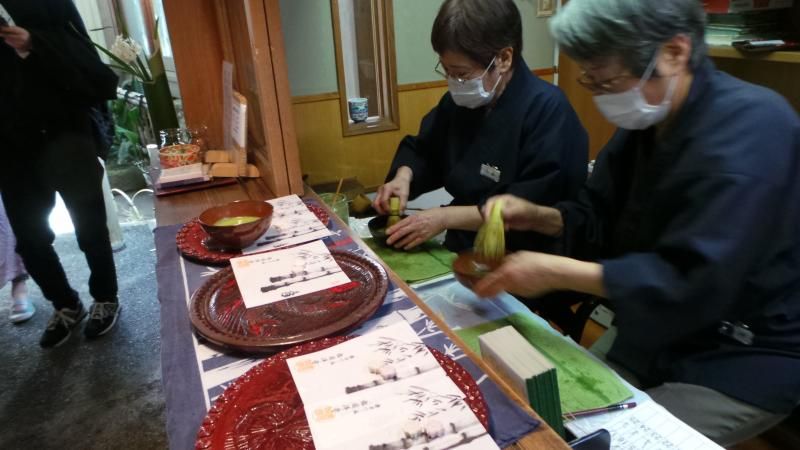 Confession: I've always thought green tea tastes a little like grass. Like, the grass in your yard. Sometimes I will drink it, when I'm in the mood to challenge myself to be a healthier, more evolved human (I'm pretty sure that this kind of thinking is what fuels the worldwide market for green tea). I always thought that maybe I just needed a more authentic green tea experience so that I could truly appreciate it. Turns out that authentic green tea is much, much worse (for me). The word pungent comes to mind. Also salty. Gave me an appreciation for our weak sauce American green tea, though.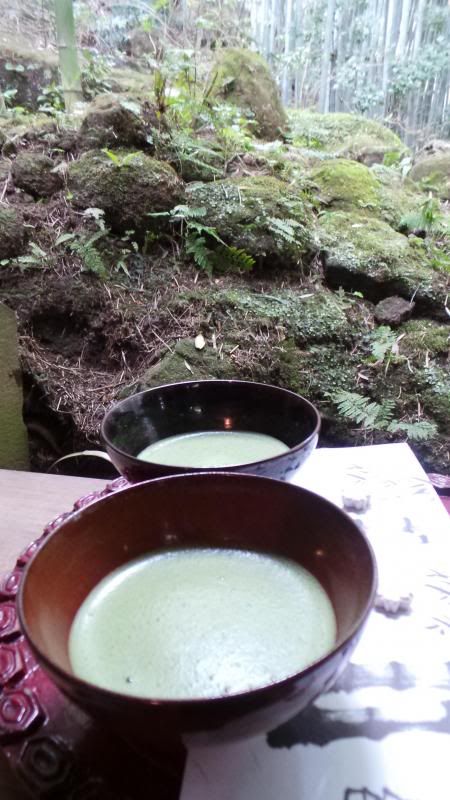 My very favorite green tea experience ever was the traditional service we got in the teahouse in the middle of the bamboo temples. The tea was ground down by hand and served in a small bowl, covered in mossy green froth with a dime-sized hard sugar candy next to the bowl (because these grannies know that business tastes foul).
This crosswalk has a bucket with little neon flags for children to hold when they're crossing. So they don't get hit by cars. #thatmakessense, right??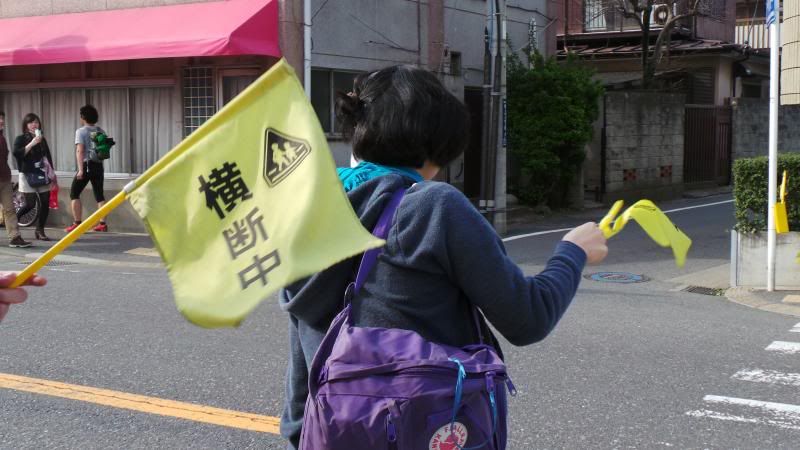 When that mission was over we headed back to the hotel to prepare for the last show of the trip. Lindsey was coming down with a cold and hadn't joined us at the temple, so we scooped her up and walked over to the venue, where I ran into this shady character: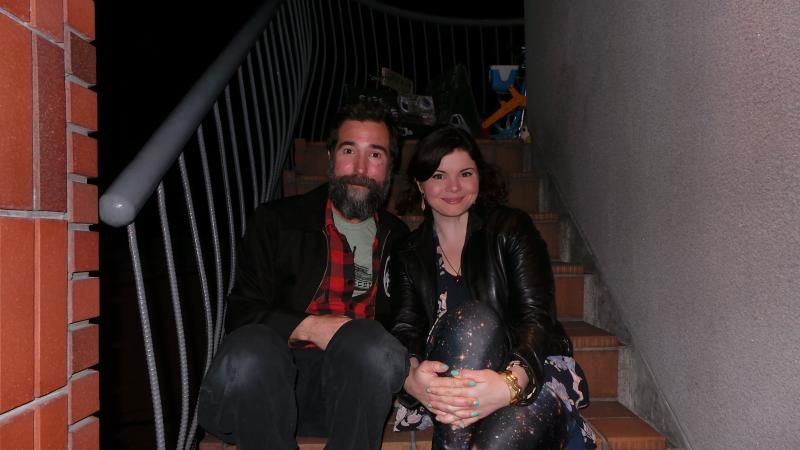 It was really fun to see a familiar face and also great to see Matt play his show, which I have seen so many times, to a Japanese audience.
Throughout the trip, people would ask how I liked Japan and I usually said that it had completely blown my mind, although I really had no idea what I was expecting. As I was about to leave, I thought about how surprised I was when I arrived by the extremity of the language barrier. Back in the US people said silly things like 'Oh, you'll be fine - tons of people there speak English,' and I found it to be quite the opposite. This was a really widespread misconception, too. I think it is rooted in the fact that tourists from Japan -or anywhere, really- who travel to America are likely to speak at least a little English and, for most Americans, those are the only Japanese people they have encountered. People who live in Japan and don't have intentions of traveling abroad or any interest in anglo culture tend to not speak English.
Anyhow, all at once, packing up to go and double-checking my flights information for the next day, I realized I was quite comfortable in Japan. In spite of the language and cultural barriers that maybe could have posed a problem… None of it seemed to matter. The people I met were very sweet and respectful. I felt safe. There was a lot of smiling and pointing and laughing, and even though it took awhile to get around, we could usually get to where we needed to go.
At one point while I was there someone back home referred to it as "The trip of a lifetime," and I almost burst into tears, devastated to think I might not ever go back (I was in a pretty heightened emotional state throughout most of the trip).
The point is, I really loved it. I'm grateful to have had the experience, and I'm especially grateful that I was able to travel there to make music. I hope I get to go back sometime, but either way I will always cherish the experience I had.
And now it's time for thanks. THANK YOU to Spike, Heather, Michelle, Richard and everyone on base for making this trip happen! Thanks to Keith and Mino for your amazing hospitality and to Lindsey for being a wonderful travel partner. Thanks to Keiji and Matt the E for the opportunity to play in Kamakura. Lastly, thanks to you for following along in my journey. I hope to get a chance to sing for you in person very soon!
With love and joy,
~becca