I am heading up I-5 from Seattle to Portland. Don't worry, I am not driving as I type this. I am sitting in a Bolt Bus, which has wi-fi. And 3-prong plug ins at every seat! How civilized. Out of the window across the aisle to my left the sky is grey, the cedars and pines are fuzzy with mist. Out of the window directly to my right, the sky is bright blue, dotted with only a few fluffy white clouds, and the trees below them represent a brilliant array of greens as they stretch towards the glowing sun above. It's a funny visual, this split screen in real time.
Behold, the Pacific Northwest! One of the last territories on the "collect 'em all" scratch off road-trip map of the US that I keep in my mind… When I landed in Oregon last week it became the 41st state I have visited, and my show in Seattle, WA on Sunday marked the 42nd. I got into a college here in Seattle. I was tempted to move here. My mother kept looking at the map, saying "One more time, here is Georgia… and heeeere, all the way up heeeeere is Seattle. Georgia. Seattle. Georgia. Seattle," pointing with gentle emphasis. On Sunday I told the crowd at my show that it almost happened, I could have moved up here! We could all already be old friends. But I didn't, and that's how life is. A series of small decisions that pile up on each other and create your present situation.
In the 4 years since I have become close friends with Raina Rose, we have talked frequently about touring together up here. We even got close and blocked off some time on the calendar for the November of 2011, but then someone got pregnant (hint: not me!) with a due date of November 6th 2011….so the tour was scrapped for a much higher purpose!
And that is how it came to be that I had never set foot in Oregon or Washington until last Thursday. I met Ellis Paul at the airport and spent the weekend traveling, opening for and singing with him. We had a blast! The schedule was intense! Seriously. I always think I put myself through the wringer, but since he only tours on weekends, he puts himself through a week's worth of wringer in 4 days! The gigs were long and full and fun, often followed by a night cap or visit with the venue owners, ensuring that there was no time for sleep until at least 1 am.
Friday and Saturday mornings we had to drive 250-300 miles in the morning (on 5-6 hours of sleep) to get to the next town in time for noon-time radio interviews and performances, followed by a couple hours down time and another late-afternoon radio appearance on both days. Seriously, by Saturday I was so delirious that I started singing "Rainbow Connection" on air (you can hear that at this link, if you're curious).
And THEN it got crazy! After a wonderful show in Eugene on Saturday night, we packed up the car and hit the road around midnight and pulled into Portland around 2 am. By 7 we were back in the car, heading north to Bellevue, a suburb of Seattle where Ellis had a family show at 11 am (soundcheck at 10). I drove this leg and put on some boring podcasts in hope that he might catch a little more sleep in the front seat, as I knew that he'd actually have to work at that show and all I had to do was sit cross legged in the audience and make animal noises. I had never seen him to a kids show before and it was a lot of fun. The kids in the audience were obviously familiar with his children's records, and he was really interactive and respectful with the kids, while making aside jokes to the adults that went over the littl'uns heads. It reminded me of going to Barry Louis Polisar concerts with my siblings when we were little.
After getting lost in the parking lot (think Spinal Tap but folk-style) we drove the final leg into Seattle. Since it was my first time in town, Ellis took me to the legendary Pike's Place Market where I got an incredible view of the Olympic Mountain Range and saw the guys throwing fish at one of the market stalls! We then went out for sushi, which gave me enough energy to introduce Ellis to the world of tea and crumpets, which gave us both enough energy to drive to the home of our host for the evening, where I immediately found my guest bed and slept hard until showtime.
I should mention that the weather on the trip has been amazing – after years about hearing how gloomy and wet it is in the PNW, I landed during what the locals tell me is an "unusual" bout of clear blue sunny skies. Personally, I'm pretty sure that the weather is always like this and they just spread rumors that it's rainy all the time to keep people from moving here :-)
After Ellis left on Monday, I got to spend a couple days visiting with Jenn Grinels (my dear friend and musical hero who moved here about 6 months ago) and we had a blast! Yesterday we went to her local dinner, coffeeshop and gym, and then we met some friends for take out and beach time. Yes, beach time! I learned that there are beaches in Seattle (so did Jenn, she didn't know). We went to this great Carribean food shack and got sandwiches to go and followed our friends to an honest-to-goodness sandy beach full of ecstatic northwesterners who were barbecuing, playing frisbee and soaking up the last rays of sunshine before it set behind the mountains, as if they were afraid it wouldn't come back. You would have to count us among the ecstatic; we spread out a tarp, poured some wine and chatted till the yellow face was long gone and one of us had to confess to being cold.
I ended my time in Seattle this morning with a visit to a spa. I know what folk singer can afford spa time? Well, through the magic of the internet, I was fortunate enough to become acquainted with the fine folks at HydroPeptide, the skin care line that I have been using, loving and talking all my friends into trying for the past few years. Since they are based in Seattle, I asked if I could come tour the facility where my favorite potions are made and they offered to help "keep my skin healthy from tour" with a little facial love. HELL to the YES! Wow it was much needed. There was probably dirt from three time zones in my pores…but not anymore! (Yes, I know I am being girly, but given the fact that I live in a car, often making do with the absolute minimum of clean laundry and have more than once had beer and cardboard pizza for dinner, you are going to have to bare with me on this one :-)
I got to meet with a representative from the company and tell her how much I love their products (I seriously do, one of my bests from high school owns a spa and got me hooked on their products a couple years ago). We had a nice lunch and then I hopped on this bus, still feeling glowy from the ultra-decadent facial (and the glorious sunset last night). I heart HydroPeptide! Whoohooo!
The best news is that my time in the northwest isn't over! Now I am heading up to Portland, where I will meet up with Raina and EMMETT (her adorable 18 month old baby boy) and the three of us will tour together for another week. Shows coming up in Portland, Corvalis, Eugene and Bellingham. This bus is getting pretty close to Portlandia, but before it gets all the way there I'm going to try to figure out how to post some pictures from the last few days' travels…
Thanks for staying tuned!
Please keep in touch :-)

xoxo

~becca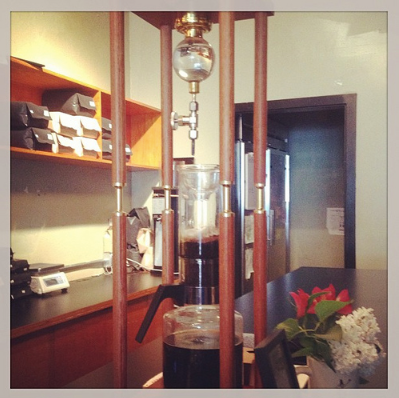 I've always heard that the coffee up in the northwest is gourmet and I must admit…even though I quit drinking caffeine last year, I have been treating myself to decaf soy/almond milk lattes daily. Kinda silly, I know, to drink a latte that lacks caffeine and dairy and therefore has none of the properties of an actual latte but it's definitely delicious and better than nothing :-)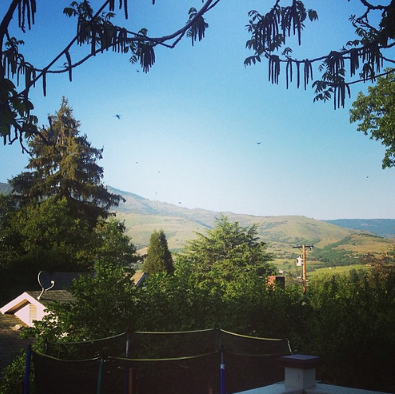 Would I ever get used to looking out the window and seeing this? Oregon is pretty…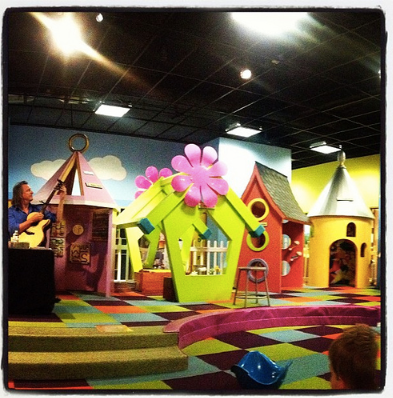 Sunday morning song time with Ellis Paul! All I had to do was sit cross legged on the floor and make animal noises, it was a pretty sweet gig :-)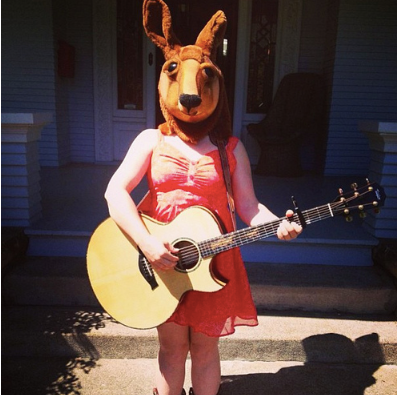 Just another Monday morning in Seattle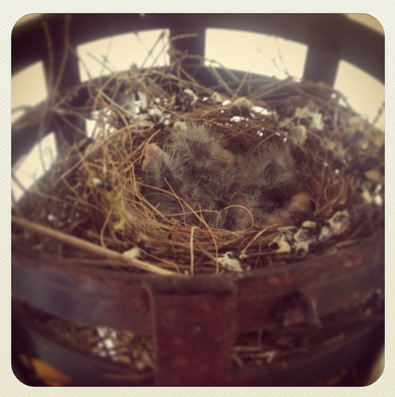 Baby birds! Living in the wind chime on Bill Lippe's porch! Too precious….
Sunset on the beach in Seattle!
EPILOGUE:
In the time since I started writing this post, this bus made it most of the way from Seattle to Portland. The driver came on the overhead to tell us that he was pleased to announce that we were ahead of schedule and would be arrivi— wait a minute. I have to pull the bus over. I am sorry, he said, but I have to pull the bus over.
Turns out, the bus didn't want to be ahead of schedule, so it overheated. We are now stopped on the side of the road, waiting for directions from the main office.
Perhaps the mellow vibe of the northwest has permeated to my core (or maybe it was the amazing facial this morning), but I am feeling very relaxed about this. The driver is being helpful, informative, apologetic and kind. The passengers are mostly being cool about it, although a few of them clearly just want to *sound* like they are being cool about it and quietly grumbling to each other about various schemes to demand free travel vouchers from the Bolt Bus company (quoth Woody Allen: "This food is so terrible! And the portions are so small!"). There is also one young-ish girl sitting in the back, talking very loud smack on her cell phone, oblivious to all the eye rolling around her. I just want to bonk her on the head with her phone and ask her if she realizes how lucky she is that this is her biggest problem right now.
My fellow travelers are filing back onto the bus, smelling of gas station hot dogs. The bus has begun moving again, limping to the nearest mechanic shop where we will be rescued by another bus. Time marches on, the world continues to spin and the weather continues to be relentlessly beautiful.
Thanks again for following along in my travels.
Never a dull moment!
xo
~becca